Smote of the Week: Two Boys, One Stone
If you haven't heard about the tragedies that happened last week in Norway, let me lure you out from under the rock that you call home. While we should probably be smote-ing the press this week for their sad attempts at trying to link Anders Breivik to Islamic Terrorists group when reports of the attacks in Norway first broke out, we will save their smote for another time.

As much of the world sends their heartfelt sympathies to all those affected by the terrorist attacks in Norway, there were two people this week that opened their mouths when they should have just had a seat and stayed quiet.

Let's talk about Glenn Beck's statement that compared the slain youth at the Labour Party political camp to the Hitler Youth:

"There was a shooting at a political camp, which sounds a little like, you know, the Hitler youth. I mean, who does a camp for kids that's all about politics? Disturbing."

I'm sorry, Glenn Beck, that young people involved in their country's government strike you as disturbing. Heaven forbid that these youth were to grow up and form political opinions on their own. I mean, if that happened in America, you really wouldn't have a soap box to stand on.

For your sad and often ill advised comments that you constantly mutter, you are getting a special smote. For your smote, you are going to be reincarnated into this next person that likened the attacks on Norway to being "nothing compared to what happens in McDonald's and Kentucky Fried S--- every day."
That glorious quote belongs to Morrissey. While all life on this planet is precious, using a nation's tragedy to spill your stinted ideologies at your audience is one of the most shameful things ever. We get that Morrissey loves to cause a ruckus about being vegetarian but you know Morrissey,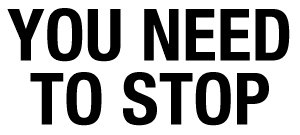 When you stop drinking Fanta (which has animal byproducts in it) and decide to go vegan, you can come sit at the big people table.
Bigmouth strikes again
For Morrissey's smote, he is going to be reincarnated into Glenn Beck. They shall intertwine each other in strange yin and yang of awful asshat-ery until the end of time. They can then only watch in horror at the sad caricatures of their former selves they have become. Glenn Beck will recoil at the fact that he has become everything he so vehemently abhors and Morrissey will shudder as he has a seat at the decadent table of the neo-cons.

Let this be a lesson, all. When something of such a terrible nature occurs, please let those affected by the events feel what they need to feel without you uttering your sad interjections at their tragedies.

Let us applaud Norway for combating this terrorist attack that was spawned by one man's hate with all the love in the world and respect for their fellow country persons. They are a shining example that I wish everyone could follow.
You'll
♥
Loading related posts from sailthru...